Statistics have shown that the majority of punters avoid placing draw bets since they rarely occur especially on some sportsbooks markets and are usually based on luck since predicting such an outcome needs some experience, which is usually assigned a bigger odd value than home or away win odds.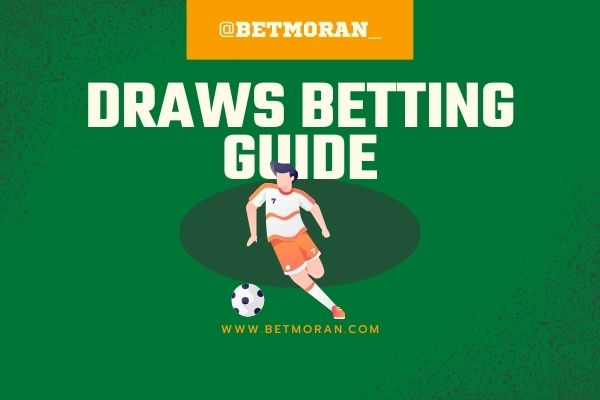 Its tricky placing draw on the traditional (1×2) betting option and is considered quite a risky bet since the possibilities are so many. Its either the home team can win or the away team, therefore ending the match as a stalemate may depend on the events taking place during the match.
When placing bets on the livestreaming we can be encouraged to place bets on the home team to draw if the case there are a man down due to red card and therefore the away team may decide to constantly counter attack the home team with the aim of winning but usually coaches employ a more defensive strategy in such situations.
Therefore, increasing the possibility of the match ending as a draw but this is different for pre-match events since such factors haven't not yet manifested during the game making predicting draw even more challenging.
But with an efficient draw betting strategy we can easily predict such outcomes and get a profit since the odds value are usually higher. However, the draw strategy also works to given point and it's advisable to avoid the psychological tricks played by many bookies in the online betting industry. This requires discipline and patience since such draws are hard to come by with teams becoming more and more competitive each year.
So how do we predict draws in popular football matches?
First, we must understand that not all teams enter a pitch with the aim of leaving with a draw and their main aim is to win to get points to place them in a competitive position for the title therefore draws are rare as they come. There is no mathematical formular or algorithms to predict a pre-match event, although numbers matter there are many factors that play a role towards an events outcome.
Apart from numbers, players form also matter (injuries, attitude, motivation), playing conditions (number of fans, weather etc.) all these external and internal factors may help in deciding the possible outcome but this information is usually accessible during the actual game, making livestreaming convenient.
However, basing our decision on previous result we may find teams that are matched equally in terms of strength and since there is no underdog the match usually ends as a draw by luck both teams may finish level with a last-minute goal. This theory usually works for some league matches but not all of them.
How to bet on draws and win
Separating the odd sets can be used to give us a better view of weather we are making a significant profit when picking the 3-way options and although we have the double chance options its advisable to first understand how each works.
The double chance option usually covers home win or draw (1X), draw or away win (X2) and the draw no bet option (1,2). We can also place bets on draw no bet although this ensure that there is a victor, we don't get to win the bet since the game is rendered void and unapplicable.
This strategy can be used if you are smart enough with experience in order to benefit from the no bet strategy. However, we can still win when we back the home team to win or draw and also the away team to win or draw.
The only issue is when to use this betting types and how each will affect the possible outcome. There is no right or wrong option in draw bets and is usually considered as a neutral since the game can end both ways. But punters chasing draws should understand that such outcomes are riskier than the BTTS or Double chance option since we have limited ourselves to a win and therefore betting on a draw is among the most difficult bet types.
Draw betting strategy
The motivation strategy
Few goals
Last fixture draw
Series of draws
Past results
Punters use the simple strategy of comparing teams that are close together in the league and usually base them as equals in terms of strategies or playing styles. This theory is based on instincts and this clouds judgement making punters more rigid from backing other options like a win. Teams close to each other at the end of the season tend to play a "safe strategy" meaning both don't want to risk losing points and therefore prefer to share points rather than risk it all.
Punters usually fish for matches with low scoring chance, although some event end level with over 2.5 goals or more and we can check on missing key players due to injury. Popular leagues may be difficult especially if the season is coming to an end and may result in teams preferring a draw to a win, this usually benefits each team wishing not to loss points.
A team may be having a consistent list of draws over the season no matter what team they are playing against they will usually manage a draw, in order to secure a win and therefore a draw over given number of matches may also result in the current match ending as a draw also. The future is based on the past and punters base draws on a simple instinct that if it happened before there is a 50% chance the draw will occur again especially if teams are having a difficult season and draws are common during derbies.
Can we win from draw betting?
The simple answer is yes, it's possible but we need to well disciplined and organized since draws are rare as they come and the odds offered are higher compared to home or away values. We can easily make a profit if the conditions are right and by luck we can win.