The double chance betting type has been a popular pick for many punters in the online betting industry, with the traditional option of the 3-way (home, draw, away) and this two or three picks are referred as the double chance but some bookies offer only three types of betting style. That is (1X, 1/2, X2). Simply put, these options mean that you are backing the home team to win  or draw during the match, the second options means that you are no backing any draw and a win is possible, the last pick you are backing the away team to win or draw.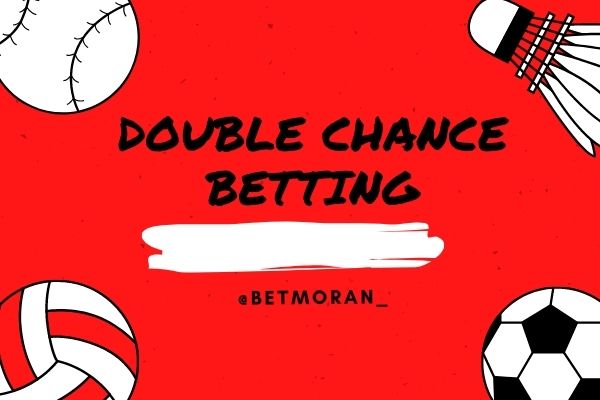 The probability of winning using this type is higher than the 3-way options since we are backing more than one possible outcome and this means we are better placed to win with over 35% percent. Experienced punters are more likely to use this feature in multiple bets while a rookie will not since they haven't yet understood how the bets work and newbies usually follow odds.
Although we have a good percentage of winning on a double chance they are not as profitable as you may think and the odds are relatively lower, which means by picking the double chance option we are limiting ourselves to lower odds, which is not that profitable although it's safer. If you are looking to profit from online betting we need to get at least odds of 2.50 and we recommend you use other bet types to get a better payout, by not limiting yourself to double chance only.
How to place bets on the double chance in sports betting.
The largest sportsbooks market is football with majority of online bookmakers offering over 1,000 + markets daily, the least we can do is play on this world league events or matches. Placing bets is easy winning is hard, the odds offered for double chances are low and punters usually look for alternative higher odds in the market. So how do we place the perfect double chance bet on football?
Difficult league matches or betting on favorites; some teams are generally equally matched meaning there are no underdogs in such matches and if the league is as competitive as the EPL, winning is usually considered for the home team. However there is the possibility of a well-established team losing in their home ground or loss an away game and we should probably select the double chance option basing on the information from pre-match analysis. Placing on a win can sometimes end in draw but if the possibility of winning or a draw is possible we can way our options and pick on the double chance bet types.
Betting on the underdog ; backing the underdog in a top league match can be considered as a risky options but using the double chance options we can get a profit as well as an easy win, take an example of top leagues during the dying stages of a league and underdogs are afraid of being relegated. The match will usually be dominated by the underdog and we should pick the underdog to win or draw in case we are surprised with a last minute goal. These option is not as profitable as the Asian Handicap odds which are slightly higher and the chances of winning is lowered by a significant percentage unlike betting on double chance.
Checking on team form, head to head; most punters ignore past results on team encounters and this is not a good idea since previous events can help predict the future in some cases and therefore blindly placing bets because may lead to a considerable loss. Always do your own pre-match analysis and you will get a better view of all the possible outcomes.
Low risk betting; generally betting on a double chance is a low risk option but when to use it is tricky and we may end up losing because we looked at odds, rather than the head to head statistics. If you are betting on a top league matches look for options that make the bet a low risk option and we still get to win if the team picked avoids defeat.
Double chance betting conspiracy theories.
There are a number of misconceptions associated with double chance betting and the common one is that its 'fail proof' this not completely backed by statics since punters also have a history of losing on their 'safer odds' .
Double chance is designed with lower odds for huge bankroll owners; this is a common myth since most odds are lower and possibility of winning high and therefore punters tend to place a huge stake amount to yield a profitable amount. First of all the double chance is available for everyone using a betting platform and is usually a good pick when you are faced with difficult choices and statistics lead you to these bet type.
It's difficult to identify odd value; in double chance odds play a significant role when betting and there is that common believe this process is more difficult than other methods.
In order to win we may require higher winning percentage; there is no fixed winning percentage on any team and this usually depends on other internal or external factors that may affect the team's performance therefore percentages offered are just probabilities and not the actual values.
The double chance accumulator
There has been a lot chatter about the worthiness of the acca and most punters are challenged on whether this option is too risky or a less worthy option to bet on. The numbers basically determine the possible outcome and also the acca is determined by the 'crowd' effect.
Betting on low odds is considered a non-profitable option and generally punters are limited from risky bet options that are considered more profitable and generally if you can accumulator more safe odds on double chance. The possibility of winning is not appealing but if you win on the acca then it's a worthy option.