Betting on corners has gradually gained popularity among punters, especially on live betting. Majority of top bookies in the industry are offering their customers with variety of markets not only on the 3-way but also corners. Corner betting is consider a more profitable approach to betting since odds are relatively. Today we are going to show you the most effective corner betting strategies to maximize your profits.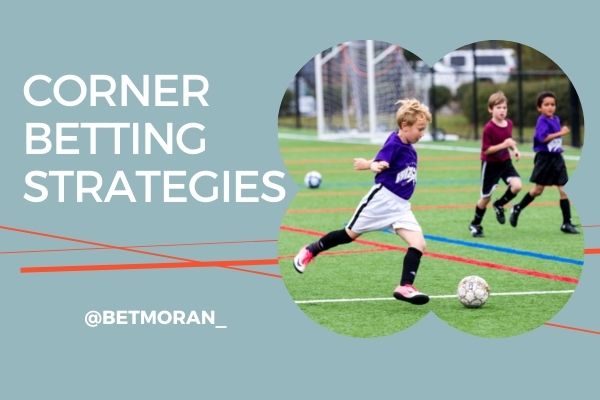 Two main reason to bet on corners are the odds and time. The odds are mainly derived from numbers and a smart punter can benefit from the bookies mistake to get better odds. Secondly, time matters that's why pre-match and in-play games have different odds. Why do we need strategy well the answer is simple to drive decision by using skills and knowledge.
Pre-match corner betting strategy
Punters favour live betting to pre-match events and this is usually due to the availability of real time data from the match. Pre-matches have better odds compared to in play matches and if exploited correctly can led to a huge bankroll. On pre-matches the two major strategies to use are:
First half betting on corners (over/under)
Bet on a specific team
Bookies usually over look odds and derive them from raw numbers. We can capitalize be get in on the first half action and beat the odds. Betting on the over and under can prove to be efficient when calculating the odd values as well as a risky attempt but can prove to be worth it.
Take the time to analyse a team better and bet on them, however the challenge with this strategy is that punters tend to waste a lot of time and end up losing other important games with in the limited time limit. Focus on previous encounters and records for home and away matches considering corners taken during the first while also doing the average math on corners taken.
Keep an eye on:
Goalkeepers: corners are usually determined by the keeper's ability to get a good push away punch or holding the ball each time a shoot is placed towards the goal. Also the backline plays a role in defending and star defenders are known to make crucial blocks that may result in corners.
The defenders: professional players will easily win challenges while avoiding giving easy corners compared to less experienced defenders who will easily drive the ball out of play and it's important to identify such players.
Weather forecast: rain or snow usually affects the match and also the mentality of defenders as well as the goalkeeper. The defence will rather give a corner than lose the ball in the box.
Average shots per game: sometimes the numbers don't lie. Modern teams have different strategies when it comes to tactics some teams may have a fast build or a long ball way of playing.
Meaning most the time players will play long crosses into the opponent's box and this usually results in big number of corners. Also identify players who love taking long shots outside the box since keepers rather than risk catching a powerful shot then tend to push away such shoots on target.
In play strategy
Despite having a time limit of 90 minutes the in play strategy is a favourite among punters and majority love the last minute action. This type of corner betting is popular mainly because we have real time data with regular updates we can easily make decisions as the match progress and also we can enjoy higher odd changes.
The main challenge to a punter is the constant odd changes with rising odds it's difficult to stay on course without a strategy and majority of punters rush to pick lower odds without backing their picks with tangible reasons. A smart punter should rule out all possibility before making that pick and understanding your personal strategy can prevent deviation from the goal which is to win.
Staking the corner over/under strategy
This is a simple but effective method an experienced bettor is able to utilize and it's important to focus on the favourites losing a home game.
Corner strategies for specific leagues.
European leagues: the leagues tend to have the least average amount of corners since the teams are usually tough and tend to play in defence way. Also the bad weather plays a major role since rain and snow affect the number of corners taken in a match.
African championships: the general idea here is that African tend to rush in nature and shooters love to take long shoots. The goalkeepers easily give away corners compared to both European and Asian counterparts.
Italian Serie leagues: Serie A players tend to play a possession game and thus avoiding corners. It difficult to win on corners in this league.
Bundesliga: characterised by tall players who love to play air balls and majority of goals result from corners. There more corners in the Bundesliga than both the African and premier league.
Dutch Eredivisie: like the German Bundesliga have the most corners and majority of players are dominant in the air.
American leagues: there are a lot of corners from this leagues especially Brazil that is home to some of the best keepers in the league.
What the numbers say:
In corner numbers matter more than odds provided by the bookie. Look out for the following data when betting on corners.
Teams tend to win corners more when they are losing against an offensive opponent in strength and this translates to more corners due to continues saves from the losing side. A dominate team usually win a minimum of 6 corners when they win and an average of 8 corners when losing. The numbers don't lie.
A higher number of corners are achieved when a losing team is constantly being attacked and despite the home team defending aggressively they give up more corners.
In conclusion, corner betting strategy is not easy but we can get data to support the numbers and benefit from the corner strategy. The best tips are to focus on the pre-match bets, corners + cards, in-play bets and staking on the over/under strategy.