In majority of sports events, players are usually booked for breaking the rules and the referee decides if a player is out of control or should be punished. In football the common cards are red and yellow while other sports events can sport different colours. Betting on football players to be booked is considered a misleading bet option but it's actually a common trend between bettors focusing on popular "hot heads" (bad tempered players). In general cards are given for undesirable sportsmanship behaviour of a player with the intention of punishing or discouraging such behaviour from players.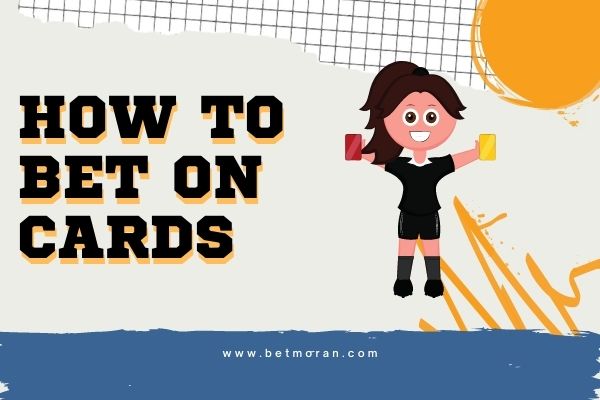 The origin of cards were based on the same rules used in traffic stops that is red to stop and yellow prepare to stop. In football, a yellow is considered a warning and a second yellow results in player being sent off. Each society needs a set of rules and guidelines to avoid chaos. Therefore, cards are used to control players and also coaches. But sometimes cards are given even if the payer had no malicious intention to hurt the opponent and made the challenge to avoid conceding known as a "professional fool".
Categories of cards betting
There are two types of cards betting that is for the individual player and the entire team option;
Player bet
Team bet
A specific player is selected to receive a yellow/red card anytime during the match. The odds vary depending on the players pitch position, previous attitude and gaming style (aggressive or a calm player). The players' habit during a match helps you predict the possibility of the player being booked and usually defenders receive most of the booking followed by mid fielders and lastly the strikers who are rarely booked players, usually there sent off for an unnecessary challenge on defenders/goalkeepers. The bets are determined by the average bookings on the team, the categories include:
The number of bookings:
Team total calculation:
Red card possibility:
Type of booking:
Time of booking:
The bookmaker can offer the average range of cards to be a minimum of 5 or more. The average is different with aggressive leagues showing even higher ranges while other leagues showing lower average values. This card type is available on both the individual and team bet.
The booking offers points each time a player is booked in a team and values are given depending on the card given. Yellow is normally around 3 points and the red card is 5 points. These bet type requires bookies to predict a set limit let's say for example a limit of 10 to 15 points during the first half. If a player is booked twice the two yellow cards become 6 points since the referee has to pick a yellow first then a red for second bookings.
This bet type is normally a 3-way betting option with odds for the home team, away team and no red cards. The dismissal of a player during a picked no red card option is lost since a card was given despite not being specific to a team. Before betting on this option you should determine if the odds are valuable or not.
The common type of bets are the first, next and the last to receive a booking. You have to correctly predict which team to receive the first, next or the last card. This is not player specific even a coach being booked is counted as a booking for the whole team and it's valid if bookings are given according to the range.
Usually bookies offer a time range for a booking the common type being the first 10 minutes or the last 10 minutes and this ranges vary with each bookmaker. The bookings odds vary depending on the time and range given. This is the hardest to predict and requires some experience in card betting.
Tips and strategy for football cards betting
Referee analysis; the match official is an important factor you should consider when betting on cards since each official is ranked different by FIFA, they each have different experiences and are in charge of giving out bookings. Look for bits of information on the referees booking habits like, is he/she a strict referee? Does he/she give early bookings?
Check in detail time of bookings; referees are trained on a standard option in giving bookings depending on the aggression of the foul or the player's intention. Sometimes players are sent off while others play on with a warning and top leagues are moving towards the VAR review on fouls, despite a player being let off the foul other official my change the earlier made decision.
Look for intentions; while others players generally avoid cards others tend to like being suspended a good example is during championships where players may get deliberately booked in order to miss the next game due to suspension.
Local rivals; such local matches have a high sense of bookings with players being a little too aggressive during the game and sometimes the referee has a hard time giving out cards since both teams are playing in an aggressive way. League matches usually start the season with players being aggressive and later on the cards stop pilling up since the games are becoming meaningless towards the end thus players are not motivated to play aggressively.
How red cards impact a match?
Red cards force teams to play with less the strength and may end up losing since majority of red cards are given during the second half. These affects the final result with the lesser team normally losing. Players' bookings under special circumstances Defenders and midfielders are the normally booked with goalkeeper and striker having less booking in a season. Circumstances of unlikely bookings:
Deliberate intention to hurt an opponent or aggressive challenges against an attacker by the goalkeeper or the striker.
Delaying time by holding the ball for long. A goalkeeper may lie down after a save and is a common tactic in defending a led.
Intuitive celebration meant to be mock crowds or an opponent.