The amazing feeling when a last minute late goal is scored in front of fans is like an adrenaline shot. The excitement, the rush makes you remember that moment for a lifetime and this common in football were by a favourite is in a stalemate with the other team. A good example is the match between Chelsea and Manchester City in the 2020/2021 Premier League season. Despite City being ahead a goal up in the first half, during the second half the Blues came back with a 63th minute an equalizer goal by Hakim Ziyech.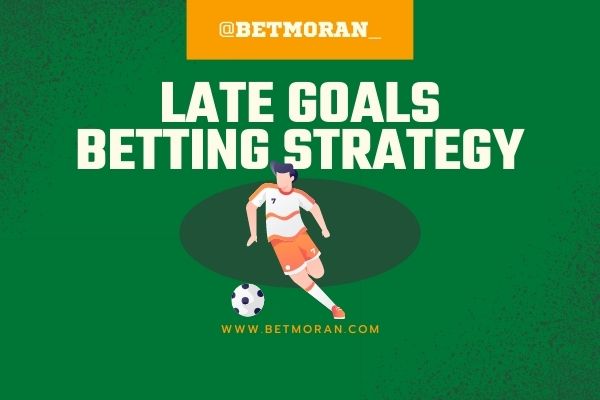 During the dying minutes of the game when all hope for a win were ruled out, the left back Marcos Alonso made a late run into the box to receive the cross from the skipper Werner hitting it first time and lifting it up over the City keeper Ederson, completing the spectacular comeback. No one expected a win from Chelsea but with last minute goal strategy we can better predict a possible comeback and win a bet.
Late goals stats and records
The late goal strategy is not for the anxious since there is a lot of pressure especially if you are about to lose and the challenge is to maintain your cool. Experienced punters have nerves of ice, but an amateur will easily cash out, which is a smart move.
The more experienced punter will however prefer to let the bet run or do a partial cash out option and this brings out the true risk of betting on last minute goals. Top leagues have a high percentage of last minute goals especially if a team is known for not easily giving up during the match with constant offensive attacks and this attacks usually pay since the team has a reputation of not giving up until the final whistle is blow.
With the Premier League showing a 35% of all goals being scored in 80th minute. This percentage is almost consistent in both Bundesliga, La Liga and Seria A, where a large number of late goals are stacked.
Picking a Late Goals Strategy
10 minute pick betting system.
Last goal strategy
This strategy is flexible in that we can bet on the first or the last 10 minute of a game but in this case we are focusing on last minute goals and is a common pick especially if you have mastered the skill of identifying games that have no last minute goals. A good example is of teams almost equal in both strength and are close to each other in the league therefore there likely to be less or no goals at all during the second half.
Pick teams that are likely to be more possessive or defensive at the back since there is a likely chance they won't risk a point in the second half countering their opponents but will change tactics to a possessive or defensive to protect a led. Avoid underdogs who are receiving a thrashing simple because they me be demoralized and are more likely to let the favourite win by a bigger goal margin.
Also teams with a red card are more likely to concede with a weakened backline and usually opponents tend to attack aggressively during the second half and in such cases it's wise to focus on betting on the favourite to win with last minute goal. However, last minute goals are notorious for high odds and we have to be precise when picking a favourite to win.
Unlike the last to score strategy the 10 minute focuses on the goal scored during the last 10 minutes rather than who scores it. The last to score is a popular strategy backed by majority of punters. During live betting the odds are high and will fall in the dying minutes of a match.
In last goal you should focus your attention on: Matches standing at a draw and matches whereby the underdog has been leading since the first half but is constantly being attacked. There more likely to concede that last goal. Be patient and watch the game. Then pick a team to back for the last goal it may change or completely destroy your bankroll.
Bookmakers sometimes offer high odds initially to shift or try to balance markets but being patient won't hurt and it may be worth it at the end.
When to strike hard?
There are times we should avoid striking but when is the right moment to pounce? Well here are tips to lookout for in case you aren't that lucky in betting:
Pay attention to matches whereby both teams are motivated to score and now one is showing a sign of being weak or tired. The most likely winner is a favourite to win well that may not be the case with offensive attack the underdog can get control of the ball and return a devastating counter attack.
Look at head to head stats, there positions in the league, there home and away records and how many goals they have conceded in previous encounters. General information is important and previous results have been known to be repeated.
Take a look on current ratings, team form in terms of tactics are they playing an offensive strategy and how many shots on target are they making per game. The average information from this stats can place the team in position whereby they are predictable.
Take time and search for local leagues whereby teams are known to have goal fest. Such teams are known for odd or even goal score at fulltime.
Be informed on what team is playing whether it's a championship final there playing, league title or just for points. When better informed we can make better decisions.
In conclusion, strive to be picking a strategy that works for you and you should also avoid betting on teams that have no motivation to win. Bad weather is another factor that is difficult predict since heavy pitch presents means players are forced to work harder to get goals. Happy hunting!