All over the world, punters are each day faced with the challenge of losing bets. Online betting has over the years been ranked as addictive similar to hard drugs they are not good for you if consumed for long periods of time since they affect you both financially and mental health may also be a problem. Only a small percentage enjoy life through making a living out of online betting and the majority are faced with losing streaks as well as a diminishing bankrolls.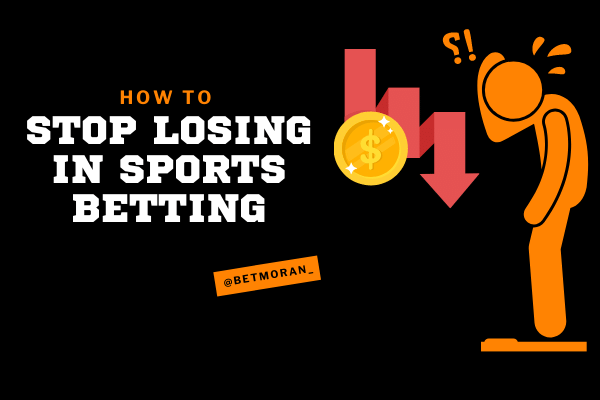 Betting or gambling is known for getting punters to where they would like to be within a short period of time, while the small percentage enjoy winning money from betting the majority suffer in silence and basically betting is based on luck or owning a time machine but we haven't yet reached there yet.
We all hate being a loser and losing streaks don't make it any easier on us but if we can get some knowledge on responsible gambling we can better manage our bets and avoid this losing streaks. It's never too late to accept that you are addicted to gambling and there are a number of international organizations that assist punters in such sticky situations.
After a terrible losing streak and all the money is gone, majority of punters want to get back their lost money through a series of bets that they believe will do the damage control but this may result in them losing more. If you use same strategies in order to achieve different results you are just wasting your precious time and its recommend to first change the strategy.
What to do after losing a bet
Not all days are good or bad but this variations make us human that's why betting is becoming more and more addictive. Like sports, betting is emotional and people get angry or mentally disturbed. There are a number of things we can do after a losing streak;
Try to calm down; calming down is easier said than done especially if you used money loaned for gambling, taking deep breathes helps the brain get enough oxygen and this will help you figure out your next move after a loss.
Logout from your account; take a break from gambling as you try to organize yourself and only go back if you are completely sure what you are doing. Logging out also gives you time to look at other ways to make money online and generally you become calmer when you avoid constantly looking at previous bet slip results.
Don't be that guy; punters after a loss will look for ways out to protect their image among friends and will blame others for the losing outcome. It's cool to accept you cannot always win every game and throwing around the blame game won't help.
Getting back to winning ways
The reverting ability of a punter will prove the mental strength that one has to come back from a losing streak and being calm is usually not easy. A punter losing an a bet because of one single bet can result in a violent response and usually punters are football fans meaning they have a better view of the outcome, therefore a different result may cause a violent response towards coach, a player in a team.
Well the first wise thing we can do after a loss is accept the loss by accepting the outcome we are opening up to change and we can review what went south during the bet. By also understanding what happened we can better view our mistakes and avoid them in future, without acceptance we can't move on with life.
Drowning on stress and disappear is not good for your health, getting out to talk with other people you will notice a lot of them have similar problems. Punters will tend to place bets with hope of getting back a large sum of money after a loss and the rush decision made here will result in the punter losing more than they bargained for, rush decisions or betting out of anger cloud judgement. Although some manage to win bets and gain confidence but only to return back to their losing ways due to mismanagement of a win.
How to get back to winning;
Never rush to regain lost money, slowly plan how you will bet and win the next upcoming sports events.
Be honest with yourself, throwing in the towel doesn't mean giving up and should be viewed as taking a break from terrible betting decisions.
Check on what went wrong after each loss, failures should motivate you to change and get that important win on sports betting.
Betting secrets for sports betting.
Betting on favorite leagues; every punter has a popular league that enables them to win easily since they have a wide source of knowledge based on team tactics, head to head among other sources of match information and we are more comfortable betting on teams we have analyzed for longer period of time.
Look for value in odds; there are a lot of bookmakers in every part of this world and we can fish for better odds online, but greater odds bring a risk with them and as a result most high odd markets are difficult to predict.
Limit your multiple bets to standard maximum; more games equals more problems, yes the payout is great but are you sure the win is possible on over 15 matches at time and we should be self-disciplined when it comes to multiple betting.
Listen to a variety of tipsters; there are a good number of tipsters based in different parts of the world and majority have experience in sports events like basketball, hockey, tennis and football among other events. Although their more experienced in their fields they are not usually correct all the time but provide solid predictions for you to pick from and we should try to understand how their prediction came about by analyzing our own.