Betlion Kenya Review
Just introduced into the market in late 2018, Betlion Kenya is an average betting site that lacks all the bells and whistles of a good betting site. The user experience is uninspiring and there are no bonuses or free bets. The website only has a mobile version further degrading the overall user experience.
[wp-review id="1045014″]
In-depth Review
From an easy to use website, flexible payment methods and bigger bonuses and the best odds, Betlion is giving the more established bookies a run for their money. Following their wild success in East African neighbours Uganda, the site is looking to replicate the same form in Kenya which enjoys a burgeoning youth demographic with an insatiable appetite for the thrills and pleasures of betting.
Betlion Homepage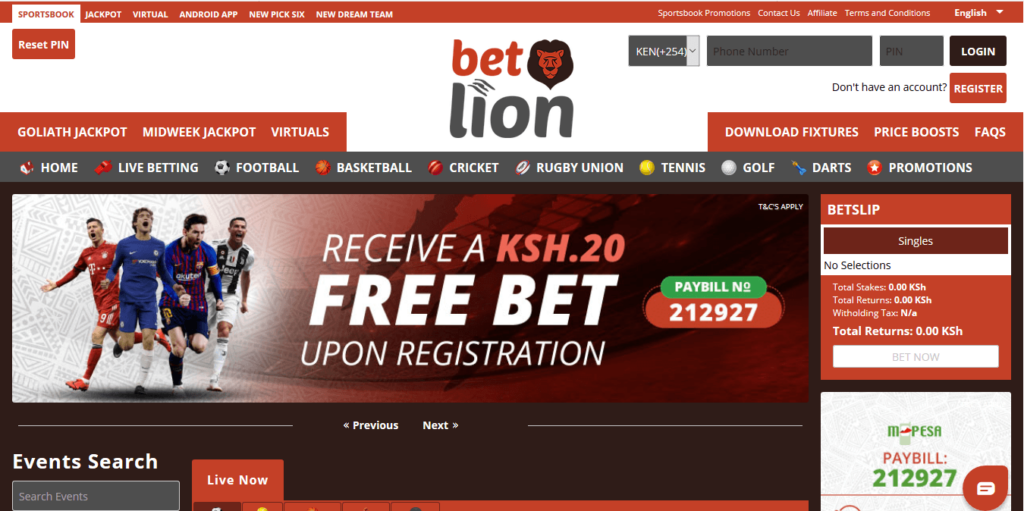 Everyone wants to get rich. And the easier one can get there the better. And what better way for sports lovers to attain financial freedom than by the tried and tested use of a little money to gain a larger wallet by predicting the outcomes of matches from the comfort of your phone? With the numerous betting sites on offer, Kenyans are spoilt for choice on which to pick from to optimize their winnings as well as offer quality service.
User experience
The site offers a unique platform, a first of its kind interactive and innovative gaming platform this side of the Sahara. With the platform, betting enthusiasts will be able to enjoy unparalleled and personalized customer service that is miles ahead of their already established competitors. In the spirit of building an all inclusive user experience, the platform is easily accessible via web, SMS, USSD and the most popular smartphone software globally, the Android application.
Betlion also keeps in mind the average punter who has to pay dearly for internet bundles. The platform is low on data usage without compromising on the amount and quality of markets on offer. Betlion is also active on the major social media platforms providing real-time assistance to clients. And for the patriotic citizen who eats, breathes and sleeps team Kenya, the company is led and run by an all- Kenyan unit with their offers and promos chosen by its customers.
Registration
The registration process is a walk in the park for the ordinary Kenyan offering two ways one can join the world of betting champions. The first way one is required to do is send the keyword JOIN to the SMS shortcode 40418. Alternatively one can complete the registration process on the Betlion website. And what's the best part of the registration process? Betlion sweetens the deal by assigning each and every new registered customer an account manager who offers them customer service on a personal level. This is completely unheard of in the country and is destined to whet the appetites of potential clients. Upon registration, the site offers a risk-free first wager of up to Sh500. In addition, it also offers a free bet of Sh20 upon registration to enjoy on any sport of your choice.
Betlion Features
For the jack-of-all-trades type of punter, Betlion provides the availability of all markets one can imagine. With football, cricket, American football, darts, handball, motor sports, ice hockey, golf, baseball and mixed martial arts among others on the menu of sports, fans can diversify their sport betting without limitations. Despite being a new entrant to the market, the variety of features offered is unparalleled making it a market leader in that regard.
Odds
Betlion has among the best and most competitive odds in town among the leading bookies across all sports and events with a multitude of exclusive special offers. Besides it also offers detailed information available on each event especially in football explaining all bet types to be found in each match with the single click of a button.
Jackpots
Betlion offers the largest jackpot in East Africa aptly known as the Goliath jackpot with a weekly prize of SH350 million for correctly predicting the outcome of 20 matches. In addition, there is a weekly midweek jackpot with a guaranteed cool Sh15 million for a punter with the correct outcome of 15 matches.
Cashout
The site provides an innovative and practical real-time feature that offers punters the opportunity to take a return on their wagers before an event has started (pre-game cashout) or finished without waiting for its natural conclusion.
Live betting
Betlion Kenya offers a live wagering interface which allows customers to track their betting activity on bets placed in a simple and easy to use structure. Double excitement as you monitor the event during play!
Virtual betting
Customers can place bets on computer-generated games which function just like real matches with real teams and real players. Here players receive a Sh50 free bet once they use a cumulative stake of up to Sh1000.
Free bet
Betlion also runs several promotional offers that avail free bets. Clients using the internet have the easy option of making their game selections then proceeding to bet slip and clicking on Freebets to enjoy the offer.
Second chance free bet
Betlion Kenya offers something other betting sites don't possess. And that is a second chance free bet where a customer gets a second chance free bet refund when they lose by one game in a multi bet if about 5 game selections. They also run a weekly special where customers choose 6 games they want to bet on and the odds are boosted by 30 per cent.
Refer-A-Friend
You can acquire Sh100 free bet of free play for each companion you persuade to Betlion Kenya. However the companion you referred must eneter your unique Betlion registered number in the required section during signup for you to be instantly credited with the free amount. A great plus about this feature is that there is no cap on the number of friends you are allowed to bring on board.
Payment methods
The platform leverages on MPESA that has over 15 million users through which customers can load their gaming wallet via paybill 212927 number and play as many times as possible through the SMS shortcode
Shortcomings
One area they can improve on is the fast reflection of customer deposits on their gaming wallets. In some instances, customers have had to wait for their deposits to reflect after a 30 minute wait. Older customers to the site will also feel disadvantaged with the introduction of the withholding tax in the Income Tax Act as prescribed by the government on all betting sites deducted at 20 percent of gross winnings. If you were on the fence on which betting site to join, you now know that Betlion is the place to be. What are you waiting for? Join the bandwagon of winners!
Betlion FAQ
How do I Deposit in Betlion Kenya account?

Use paybill number 212927 to deposit money into betlion kenya website

Who Owns Betlion Kenya?

Betlion is registered under Zumandu Limited which is associated with Lee Nyachae and British betting tycoon Victor Chandle.

What is Betlion Paybill Number?
Sign up for Betmoran Mail
Join our newsletter to receive exclusive access to bonuses, betting guides, new tips and tricks that will make you a better sports bettor