List of All Active Betting Sites in Kenya
Let no one lie to you that all betting sites in Kenya are the same. Your needs as a bettor will always be different from what others are looking for in a bookie. Some prefer high odds only, others will only use a betting site if it has advanced features such as cash out and refunds, some bettors such as me like to get free money from betting sites in form of bonuses and free bets.
The best part is that there are very many different bookies in Kenya, and through our help you can find the perfect one for your needs. Below we have listed all registered, legal and active betting sites in Kenya. We have also highlighted the best features of each as well as the welcome bonus that they give new users.
How we Rank Active Betting Sites in Kenya
While it is great to have this many bookmakers to choose from, it can be difficult to find the right choice for you. This is why I want to share with you the tricks that I have used over the years to rate betting sites. Here at Betmoran our goal is to provide you with truthful & accurate information that is meant to make you a better sports bettor.
Our team is made up of highly experienced sports bettors from around the world. We know what makes a betting site to stand out, and we make sure all our reviews are in-depth. We join and all listed betting sites just like other users to give you first hand experience.
While reviewing the bookmakers this is what we usually study:
Bookmaker Information
First, we check and confirm all official details of the betting site. This include details such as when the site was registered, the main country of registration, owners, legal status, location of offices etc.
This is meant to initially confirm whether the betting site is officially registered and recognized by the betting authority in the country. This is very crucial if you want to avoid scam betting sites. That is why we only list betting sites that are officially registered and recognized to avoid listing bookies that are banned in Kenya.
Betting Features
This will always be the most important part when evaluating a betting website. You need to be sure that they have all the important features that you will use often. These are the features that will ensure you make a profit or not.
According to us, important betting features in a betting site include cash out, edit bet feature, bet builder, live betting, bet boost, and reliable virtual betting.
Bonuses and Promos
You can make a lot of free betting cash by taking advantage of bonuses and promos from betting sites. Almost all bookmakers have some sort of bonus available to either entice new bettors or to reward loyal bettors.
To entice new users, bookies usually offer a sign up bonus that can be either a free bet or a sign up bonus that is a percentage of the initial deposit. For example 22bet Kenya will double your initial deposit up to Ksh.20,000. This means that if you deposit Ksh.20,000 as a first deposit when you join 22bet will give you a bonus of Ksh.40,000.
This is an excellent way of getting some free betting cash. If you want to get more of such offers check out our list of all betting sites in Kenya with free bets & bonuses.
While sign up bonuses are exciting, they can only be given out once, and that is why you need to seek bookies that have a reliable loyalty program that will reward users that continuously use their site. In Kenya Betway and Dafabet have the best loyalty programs.
Odds & Markets
Betting sites will give you different odds for all matches/sports depending on their average payout for every sport. It is very common to find sites that give very high payouts on football but very low payouts on other important sports such as tennis and basketball.
It is important that you take into account the average payout across all sports when choosing a bookie. However, if you primarily bet on a single sport such as football it makes more sense to use a bookie that offers the highest odds on your preferred sport.
Furthermore, you need to be able to place bets across as many markets as possible without limits. In football, a bookie should allow you to place bets on things such as number of yellow cards, corners, first to score, etc. This should include matches from as many countries and competitions as possible to increase your options.
User Friendly Website & Mobile Apps
One important feature that is often overlooked by users is the friendliness of the bookies site or mobile app. The website/mobile app must be easy to use, quick to load, and placing bets must be a smooth and pleasant experience.
In Kenya, more than 90% of bets are placed through mobile phones, and the betting experience must be optimized for use on mobile. On top of having mobile friendly sites, bookies should also have high quality native mobile apps. Such apps are quick and more responsive as opposed to visiting the website everytime you need to place a bet.
Locally, Sportybet and Odibets have the best mobile sites and native apps.
Customer Support
Every service that involves you spending money should also come with exceptional customer service. You need a bookie that will respond to all your questions and provide assistance within the shortest time possible. Good bookies should provide a wide variety of ways that you can contact the support team including social media, mail, phone, and live chat.
In Kenya, we have always liked the service provided by Sportpesa which is the quickest and most efficient. Besides being quick, the support team is also very knowledgeable and have a good grasp of the betting environment.
User Reviews and Complaints
A popular rule of thumb before buying anything online or using a service is to look for reviews from other users. Through this you should be able to better understand what makes some users to prefer a certain betting site. The first place where you can find reviews of betting sites is on Betmoran where we write impartial and detailed reviews of all bookmakers. On Betmoran you can also find reviews from other users and you can add your own reviews too.
Other places you can find such reviews include social media, google reviews, and sports betting forums. You should also be keen to find out what other bettors complain about. There are very many scam bookies out there and you need to know what you should avoid.
More About all Bookies in Our List of Active Betting Sites in Kenya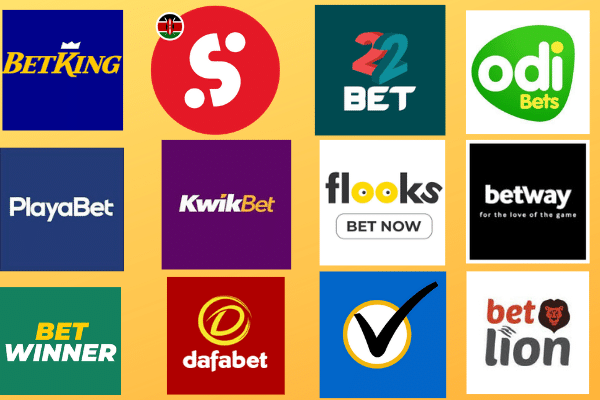 If you are still unsure about which is the best betting site in Kenya for you we have created a quick guide for all bookies. The guide will highlight what makes each site stand out as well as their pros and cons to make the choice easier for you.
This is one of the newest betting sites in Kenya but is has a lot of unique features for bettors in the country. Such features include a betting exchange, many virtual sports, and a world class live betting experience.
We have partnered with Betwinner to give our website visitors a special offer today. Join Betwinner today and use the promo code 'MORAN' during sign up and get a KSH.15,000 sign up bonus.
Pros
Large variety on betting markets
Wide bet type options
Welcome bonus
Live streaming feature
Competitive odds
Easy to use app
Bet accumulator
Cons
Poor site interface
No jackpots
No cash out feature
---
22bet is one of the best betting sites in Kenya, and it has quickly become our #1 recommended site to all new and veteran users. What makes this bookmaker stand out is their high odds, many bonuses, features and coverage across all sports and markets from across the world.
Pros
High odds
Large bonuses
Many promos
Good Features
---
Odibets is also another very popular bookie in the country. Many users like odibets because of their website is one of the easiest to use, plus their odds are usually very high on football. Additionally, the odibets android app is one of the best we have seen – its light, fast, and very responsive.
Pros
Great mobile app
Good odds
Fast and responsive website
Massive jackpot
Cons
You can only bet on sports
Missing pro betting features
---
Sportybet has consistently been chosen as the preferred betting site by most bettors in Kenya. Its no surprise since Sportybet has some unique features and qualities that endear to many Kenyan bettors. Such unique features include full and partial cash out system, a world class betting app, exciting virtual games to name just a few.
Pros
Full and partial cash out
Quick and user-friendly site
Exciting virtual games
---
This betting site provides a satisfying betting experience especially if you only bet on sports, especially football. They provide bets on a wide variety of markets, good virtual games, a large bonus, and user friendly mobile apps. Satisfying experience but unfortunately not sufficient for those who have more skin in the game.
Pros
Good bonuses
Quick and responsive apps
Unique virtual games
---
Dafabet is a well known bookmaker in Asia and among the largest. The bookmaker is famous for introducing the world to the Asian handicap. They cover most sports and major events and their live betting feature is a pleasure to use. Dafabet Kenya is a good option for all types of bettors.
Pros
High odds
Daily jackpots
Loyalty benefits
Cons
Slow site
Poor mobile betting experience
---
This is another bookie that will be preferred by more experienced sports bettors because of the numerous features and bonuses it has. No other betting site in the country comes close to matching what is on offer here. Melbet covers thousands of sports events from across the world.
It is almost impossible to find an event that is not covered by this bookie. Furthermore, this bookmaker usually has more than ten promo bonus on offer including: 200% welcome bonus, loyalty bonus, 100% refund, accumulator bonus, bonus for 100 bets etc.
Pros
Many daily bonuses
1000+ events covered
Pro-betting features
Cons
Website is not user-friendly
---
This betting site is very basic, but has enough features to satisfy a majority of sports bettors. The jackpot is simple and easy, the virtuals are good, and there are many weekly and daily promos for the users.
Pros
Daily and weekly promos
Good virtual games
Friendly jackpot
---
This is not a popular bookie, because they have no standout features although some of their offers might be enticing to some. Freebets, and a second chance refund are the standout features on this site.
Pros
Multiple jackpots
Second chance refunds
Freebets
Cons
Low odds
Inferior live betting
---
Bongobongo is one of the newest betting sites in Kenya, and it might be because of this reason that it still provides an incomplete betting experience. They have a good jackpot feature and a win bonus. On the other hand, the site is not very user friendly, features such as virtual games and live betting don't work properly. Odds on the site also seem much lower than what other bookies offer.
Pros
Variety of sports to bet on
Welcome bonus and promos
Jackpot
Win boost
Cons
No cash out
Site is not user friendly
No casino
---
Playabet is among the relatively new bookies in the Kenyan market and offers a range of markets on sportsbooks as well as virtual games. The bookie in its short existence has amassed quite a following due to the bonuses and promotions being offered on the platform.
Pros
Welcome bonus
Easy registration and verification
Good number of jackpots
Cash out
Money back
Cons
Lacks an app
Limited livebetting
---
This turned out to be a popular choice after a number of popular betting sites such as Betin were banned by the government. This bookie has many features that will satisfy casual and even dedicated full time gamblers. Their casino also stands out; it is quick, efficient, and with enough variety to hold your interest for hours.
However, they are not very trustworthy and we have received numerous reports from our users about bets changed after winning to make them a loss, odds changing on bets placed after matches have started.
Pros
Virtual play
Massive bonuses to new users
Low minimum amounts to bet with
Variety of sports to bet on
Cons
Complaints of changed bets after winning
Cashout not available
No live betting
Complicated withdrawal
Low jackpot amounts
Deposit fee
---
Betting on Sahara Games is very similar to betting in a real life casino, albeit a poorly built one. The site has all the sports, virtuals, and features you would look for in a bookie. It is a good site for more experienced bettors who can take advantage of all that it has to offer.
What holds Sahara Games back it the poor design and user interface that makes it quite difficult to navigate through all the options and even to place simple bets. They have recently updated their interface that improves the experience but it still has some way to go before it matches the experience provided by sites such as Sportpesa and Odibets.
Pros
Live scores available
Decent odds
Live betting
Two jackpots
SMS betting available
Casino with many games
Free bets
Cons
Relative limited variety of sports to bet on
No cashout
Poor website ux
---
Mozzart provides you with an international betting experience. Features such as the low minimum stake and bonuses make it a fan favorite. On the other hand, the website is very buggy and issues such as unresolved bets, missing deposits, and features not working correctly are quite common.
Pros
Instant deposits and Online Withdrawals
1000% bet bonus boosts on multibets.
Mozzartbet Jackpot for only Ksh 30
Live Betting
Virtual gaming available
Lotto available
Affordable deposit amounts
Happy hours bonuses
Two jackpots
Affordable jackpot amounts
SMS betting available
Two jackpots
Free withdrawals and deposits
Jackpot bonuses
Cons
Poor site
Slow customer service
---
mCHEZA provides a standard betting experience with a limited set of features. Although the site might be perfect for the average bettor, it lacks more advanced features and the jackpot is a bit low.
Pros
Live betting available
Variety of sports to bet on
Invite bonuses
Casino available
Virtual betting
Cons
Deposit fee
Cash out not available
Minimal jackpot rewards
---
Betting Sites in Kenya FAQ
Are there Betting Sites in Kenya that have Free Bets?
Yes. Almost every active bookmaker in Kenya has some form of free bet or bonus. The most common is a deposit bonus which is given when you join a new site. Some sites give this as a free bet. Increasingly, bookies are offering free bets regularly to loyal clients. You can check out all the available in Kenya on this page.
Which Betting Sites are Not Banned in Kenya?
In 2019, the government of Kenya banned very many sites in the country. You need to be careful to avoid losing your money by depositing to sites that are not officially registered. If you need to see a complete list of all registered and banned betting sites in Kenya, visit this page. It is updated often with official data from the betting licensing board.
Which is the Best Betting Site in Kenya?
Although there are many good bookmakers in Kenya, it is not easy to pick one as the best. Different betting sites have different features which might appeal differently to bettors depending on your betting style and preferences. You might prefer bookies with high odds, more promos, features such as cash out, fast website etc.
However, we have ranked the top 10 according to our experts to make the job easier for you. You can view this ranking on this page.
How Can I Bet in Kenya Without Paying Tax?
This is not recommended, but it is possible to bet without paying taxes in Kenya. The first way is by betting on crypto betting sites using cryptocurrency such as bitcoin. Nowadays it is very easy to exchange mpesa to crypto and vice versa. I have created a handy guide on how you can achieve this easily, and you can view it here.
The other way through with you can avoid betting taxes is by betting on international betting sites that are not registered in the country. You cannot use mpesa to make deposits but you can use services such as skrill, neteller, and astropay to go around this limitation.
Is 1xbet Registered or Banned in Kenya?
1xbet was one of the first bookies in the country, and it was a favorite of many bettors. However, it was banned in 2019 and it has not been registered since.
However, there is a way you can use to join and use 1xbet in Kenya, and the advantage is that you will not have to pay taxes. Use this guide written by us to join and bet on 1xbet using mpesa and avoid paying taxes.
Where Can I get Fixed Odds in Kenya?
After betting as an expert for close to 10 years, I can confirm with 100% certainty that it is nearly impossible to get fixed matches. Anyone attempting to sell you fixed odds is most probably a scammer who you should not give your money. There are many legitimate sites that will provide you with free betting tips, which although they might not be 100% accurate will give you a higher chance of success.
Where Can I get Free Betting Tips in Kenya?
There are many free betting tips sites, but only few can be relied on to consistently give you winning tips. You can a list of the top 50 prediction sites here, but our favorite here at Betmoran include 101 tips, 99tipster, Betbench and Betmoran tips.
Are there Betting Sites with Cashout in Kenya?
Currently, most of the betting sites in the country have some form of cashout facility available. A cashout should allow you to withdraw your winnings even though some of your matches in a multibet have not yet been completed. The betting sites with the best cashout in Kenya is Sportybet and Betway.
Which Betting Site in Kenya has the Highest Odds?
If you want to make more money in betting, then you certainly need to use bookies that have high odds. Bookies offer different odds on different sports and markets. You need to use the site that offers high odds on sports and markets that you mostly bet on. In general, we have noted that sites such as Odibets and 22bet tend to have the highest odds across all sports.
Can I place Bets through SMS in Kenya?
Yes, there are bookmakers that allow you to place bets through sms. Sms betting is an efficient way to place bets if you do not have access to a smartphone or the no access to the internet.
Where Can I get a List of All Active Betting Sites in Kenya?
---
Which is your favorite among the listed active betting sites in Kenya?
Sign up for Betmoran Mail
Join our newsletter to receive exclusive access to bonuses, betting guides, new tips and tricks that will make you a better sports bettor