In gambling this generally means sharing the risk by backing more than one selection especially on races or other sports events and aims at sharing the risk of losing. However one needs to make correct calculations on stake placed on each selections and should yield same return if any of them wins.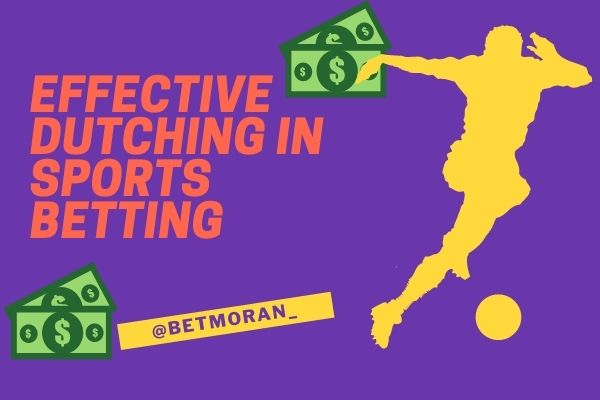 The risk management strategy that is generally referred to as dutching by most bookmakers and punters has been in the gambling industry since the 17th century global economy. The aim of this strategy is purely risk management and minimizes losses by placing bets on lots of selections with aim of profiting from them.
By spreading the risk over a number of selection and using a reasonable amount as stake has proved to be an effective strategy and usually not easy doing all these calculations. Dutching is part of the old strategies used by punters long time ago and has refused to die over the years, the noticeable advantage of dutching is that it can be used on online bookmakers, it's also not limited to bet exchanges meaning we have unlimited access to different exchanges on races or events.
The aim is to share the risk over a number of selection to secure profit or guarantee a standard profit amount and usually confused for arbing.
Origin of Dutching
The term comes from Dutch word "Schultz" a famous mobster and a legend who rose to existence in the city of dreams New York City. The name was mostly used in his crime related endeavors from operating illegal lotteries in the slums of NYC, Simon Flegenheimer was well known for his crimes and used the Schultz name to give a name to his crime related career.
He came up with these strategy while betting on horse racing and decided to split his stake amount by backing more horses that where favorites to win and preferred to bet on two or more horses, by sharing the risk from one horse too more than two enabled him to get a profit no matter what horse won or lost. The pioneering idea was used by Schultz in the last minute before races started and these increased his profits significantly over a period of time.
So how does Dutching work in betting?
The knowledge behind Dutching betting is simple, since we just have to divide the stake between odds of multiple selections and we should get same profit no matter who wins. The biggest challenge is that dutching takes a large portion of your time doing calculations and determine the stake to use in order to get a profit.
To get dutching right we need to get odds that are more profitable and the number of selections will determine how many profitable selections can be made. Generally finding the odds implied profitability, should be our first priority and good example of implied profitability is as follows;
50 for 1-0 score (1/3.50 x 100%) = 28%
6 of a 2-0 score (1/6 x 100%) = 16%
10 of a 2-1 score (1/10 x 100%) = 10%
After determining the implied profitability we can now move to finding the right stake by using the formula; (stake amount= total percentage/ stake amount)
Stake amount (28/50 x 100)= € 56
Stake amount (16/50 x 100)= € 32
Stake amount (10/50 x 100)= € 20
Instead of doing countless dutching stake amounts we can look at different dutching calculators available online to generate the possible stakes that are profitable and we can easily stake winning bets. Nowadays we can save time used for calculating to find odds that are profitable through technology it's much faster than doing it old school.
Dutching strategies we can use.
The best sportsbooks we can apply the dutching strategy is the greyhound, horse racing among other racing events and we can avoid backing a single bet through dutching it's possible to utilize multiple selections thus sharing the risks.
The recommend number of selections is two to three events or races at a time basing selections on their odds and it's advisable to first check the stake amount. Backing many odd bets on horse races or greyhounds gives us an almost 50% chance or less of winning and this possibility is evenly distributed on number of selections.
The possibility of losing all selection is not zero but its greatly reduced therefore this means we can recover a significant amount as profit if we win at least one of our selections. We can easily recover losses and the good thing is that we don't have to win three times in a row. Football dutching is a still not as popular as the races (greyhounds or horse races) and is common in the traditional 3-way selections. The strategy can be used in special bet types like the correct score and halftime/ fulltime betting, we can back two or more teams to win a league.
Pros of Dutch betting
Enables punters to wager less on more selections and good odd selections can prove to be profitable.
It's convenient to place on markets like correct score, double chance and 3-way, we are guaranteed a winning chances no matter which teams wins.
We get to control over our bankroll and we get to select possible outcomes using percentages attained from the Dutching calculations. Knowing how much profit we can get or how much we can loss in dutching betting is possible and therefore helps us decide how much we are willing to risk by betting on the Dutch strategy.
Cons
It's a complicated strategy and may require a stable bankroll since it is also possible to loss all selections, thus making losses much greater due to spreading of stake.
Popular poor at math may find dutching a problem for them and thus making them even more uncomfortable. This usually leads to poor decision when selecting the stake amount to use.
Its time consuming since we spend more time calculating than looking for better odds in the market and we require more than one selection for dutching to work.