Virtual betting is a popular way for punters to make money online with bookies offering virtual leagues in which you can win money every minute. They also offer a variety of sports events. The available and most popular market in virtual betting is virtual football betting. With a wide market you can't miss a favorite to bet on and it's important to look for value in bets.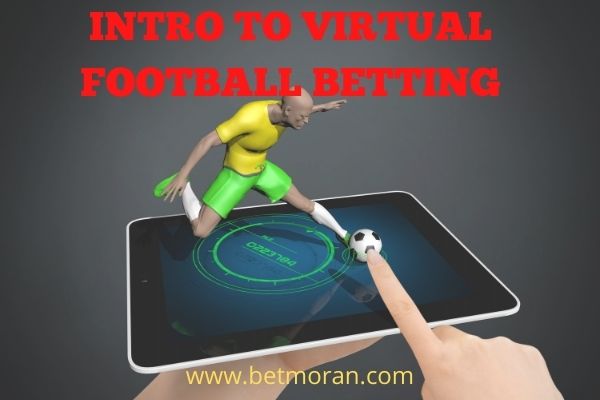 Despite chatter about some bookies making it impossible for punters to win on virtual betting, there are still some bookies who offer legit and fair gaming environment for punters. There are a number of bookies you can place your trust in so its important to get a review of the bookies and also check on comments sometimes you may find interesting comments.
Majority of us are left with little choices after the conclusion of a popular football season like the Premier League. Virtual football betting has created a balance for bettors making a living out of online betting and a good number have mastered the art of virtual betting.
The betting and licensing board is responsible for regulating bookies to prevent tempering of punters chances of winning and although measures are put in place to ensure you don't get conned. There are some challenges like misinformation, some bet sites have been known to scam players with 'sure bets' be warned of such sites that ask for money to give you a virtual prediction.
Virtual Football Betting Explained
Virtual Betting is placing a wager on computer simulated matches and usually there different leagues you can bet on virtual football. The computer generates the winner using the RNG (random number generator) similar software used in casino games and the algorithm is continuously changing, that's why match results are not the same.
The virtual game is hard to predict using previous statistics and you may need a lot of time to get a pattern. Bookies may offer instant virtual games that require you to place a wager first for it to run and the other type of virtual betting is the scheduled kind whereby the match starts on the time scheduled.
How to place virtual football bets
Placing a virtual football wager is similar to placing a regular bet on the bookmakers platform and the only difference is that your fate is decided in only a few minutes. Majority of virtual sports have a short time period and results are determined every 4 minutes with RNG and that's why virtual betting is exiting since you can be winner with minutes.
You can find bookmakers with good virtual betting options on our betting sites list. In virtual betting, bet markets are limited to a few options the common types of markets including; over/under, 3-way, double chance and both teams to score (BTTS). The odds vary like regular football matches with the underdog showing lower odd values and the favorite to win showing higher odd values.
The matches run 24/7 unless the computer generating numbers breaks down. The main advantage of virtual betting is that it's not affected by current real life results and therefore an underdog can win with odds up to 10.00 making virtual betting the most profitable online betting type of market.
The down side of virtual betting is that its unpredictable in nature meaning that you cannot easily predict the win since the computer randomly generates the winning numbers in this case the winning team and therefore focusing on teams only is not a factor to consider in virtual football leagues.
Can virtual football betting be manipulated?
Yes, since it's computer generated it can be manipulated to favor the host party and usually bookies have complicated software that is protect from third party access. Nobody likes losing money and therefore bookings are regulated by the betting and licensing board that ensure they remain true to their fair play gaming policy.
Usually bookmakers that fail to meet the set regulations are completely burned and their license is revoked. So be aware of your bookies policies to ensure that you aren't scammed. Virtual Betting is usually different from the real life matches and usually the virtual football game can be simulated in that characters are used like the once we see in PlayStation.
You can bet any place any time on your smartphone and you also have the option of betting shops. This is the best type of virtual betting since winnings are directly cashed out at the counter and you can also watch the football live on screens mounted on the walls round the bet shops. There many more sports events to bet on apart from the popular football bets the common virtual markets to bet on include: basketball, tennis and greyhounds.
Virtual football betting advantages
Football is a popular sport to bet on but you can compare virtual betting to real football matches and here are some of the advantages to enjoy in live betting:
It's fast and therefore you can easily win a wager quicker that real life wagers on football.
There are variety of matches to choose from since the fixtures are updated continuously.
You are saved from a match being canceled or being render void due to poor weather conditions.
Anyone can win on virtual bets since they don't consider previous results as a factor and you can be lucky to win a high odd wager.
Tips on virtual betting
Select a football league wisely: if you love betting on football stick to football and always choose sports with fewer bet options. The odds may not be of high range but the chances of winning is high on simple bet markets like over/under, both teams to score are some of the bet markets available.
Bet small wagers: some may say staking more results in more profit but in the case of virtual betting its wise to stake little amounts and this helps you get a feel of the RNG, in that you may see a pattern develop as the match progress.
Never chase losses: after a terrible losing strike it may be wise to take a break, chasing losses may make matters worse financially for you.
Back favorites: usually backing the favorite gives you a better chance of winning but it's not always a guaranteed.