If you haven't been to a stadium before then live betting is for you. You get the best betting experience with majority of bookmakers offering the best match tracking software and these has proved to be decisive. Many of us prefer live betting than to analyse a pre-match event since most of the matches line-up or team tactic are available minutes before the event starts.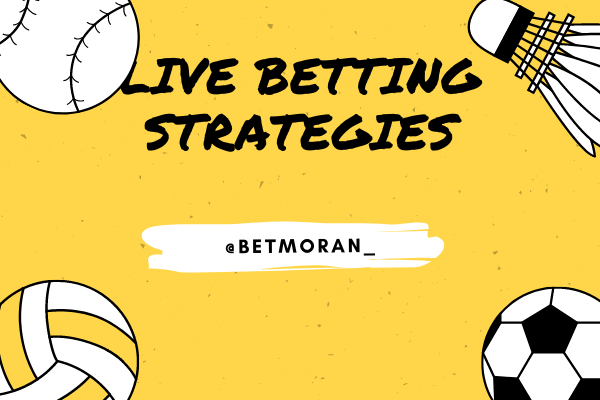 Live betting maybe mistaken as an easy way of making that bankroll but the fact is it's not as easy as it seems and we also getting mixed possibilities with odds increasing while the most likely outcome is showing lower odds. Although it's much safer to pick lower odds it's also challenging since some teams are known for impressive comebacks.
In order to fully benefit from live betting we need a strategy as well as a professional approach to the mouth-watering odds. The knowledge of live betting strategy narrows down the possibility increasing the chances of winning although the odds are relatively low the major advantage is that we have increased chance of winning or placing a significant bet to win big before the match ends.
The basics of live betting strategy.
Live betting is considered a major deceiver since the odds may be wildly tempting, especially if you are on a losing streak and its relatively important to avoid any temptations to place bets with aim of recovering lost bets.
Avoid placing too many live bets at once although this is possible. It's important to focus on a few at a time. This gives you time to better analyse the match and predict the possible outcome.
Its advisable not to place bets without first doing the hard work that is an in-depth analysis of the match its advisable to first watch the first then bet on the second half. Sometimes a high number of shots on target don't generally mean that a team is winning. It may just be that they are just shooting for the sake of shooting.
Do the work avoid short cuts. Instead of looking at match analyst do the work yourself. Sometimes they may miss key information that you could have noted and this increases the chances a win than trusting someone else's advice.
Live betting tips
The live betting option is actually determined by only two things that is time and odds. These factors can change your life through the bankroll if mastered can led to better winnings and improved winning records.
The odds will tend to increase depending on the match data provided which is updated regularly the shift in odds tend to show the direction of the final outcome but there is one disadvantage some teams are notorious for comes backs therefore it's important to watch rather than react fast to the odds.
Use a fast and reliable livescores service such as 101 scores or 101 tips. The best solution to counter the changing odds is to pick a time limit in order to make a decision that's is more likely to be profitable and should be placed before the odds get any lower than before. Live betting odds move depending on the time and also various aspects like a player sent offer and also the score among many other factors.
It's therefore important to predict the future odd change and pre-decide the best possible outcome and avoid waiting for the right time to pick since odds may get even significantly lower. It's important to not rush but wisely decide the best pick that works for you.
Go against the obvious bets
The home team wins are considered to be lower but are usually popular and we can go against such popular odds in order to get much better odds at a risk and can be usually be worth the risk. Bookmakers don't like live betting since it narrows down the chances of winning but we are not saying the possibility of losing is zero. Although its low there is also the possibility of losing a live bet and it's therefore important to way options before going against the "crowd effect".
Live betting on cards
Well if you are still new to betting it's advisable not to bet on cards since it takes experience and a lot of understanding of the game especially football. For example a derby match may contain a lot of cards especially yellow cards while a final match may have little or no cards at all. Also refer habits have an effect on the number of cards and therefore you may need experience when picking the cards for a specific match.
Pros of live betting
Livestreaming: The live analysis allows us to watch before placing a bet and every minute counts before the match ends.
Odd value betting: bookmakers has made it easier to find value in odds. In play games have the best odds at the start of the match and may drop significantly towards the end, therefore patience plays a key role as well as keeping your nerves in check.
Cashing out pre-match bets: we can easily cash-out pre-match mistakes bets before the match's ends and therefore correcting the mistake made earlier. Although cash out depends on the bookmaker policies and as well as the time period some bets cannot be cashed out.
Look at different bookies: we can find much better odds if we take the time to explore not only the popular bookies but also looking at the new under-rated bookmakers in the market they are generally known for offering much better odds.
Cons
Time limit: live betting is generally limited therefore when placing bets we maybe in a rush to utilize the limited time offered therefore we should pick a limited number of games to avoid making mistakes.
Addiction: live betting is very addictive and can be time consuming therefore we need to pick limited number of teams at a time.
Exaggeration: live betting brings about the persistence that a strong team must always win.
In conclusion, you should choose the best strategy that works for you and stick to it while mastering your live betting style. A good live betting strategy can minimize loses and generate a steady income.