As the saying goes, time is money. And no where is it more crucial than in the realm of betting. Time affects both the bookmaker and the punters and since time lost can't be recovered we can only manage it. Therefore punters try to beat the time by analyzing as many events as possible on sportsbooks and a lot of time spent on research means that the in-play odds are getting smaller and smaller.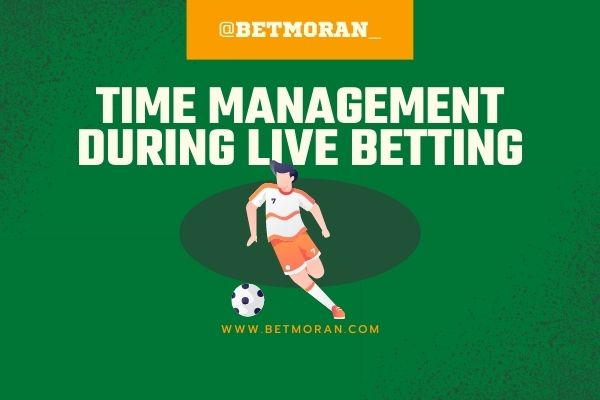 Bookmakers have over the years managed their time by offering much higher odds for pre-matches than in-play events and this is possible due to technology whereby a series of codes or algorithms are used to generate the odds based on the market demand.
Some of the factors that may affect the time management during a livestreaming event include network coverage and traffic flow on the bookies website. These factors may cause managing live betting time challenging since the system may be slow due to regular updates and thus by the time you play the odds would have changed.
The bookmaker usually updates the open market but also changes the odds according to the statistics offered during the match and as regular time comes to an end, other markets will be closed especially if the underdog is receiving a thrashing. For livestreaming to be profitable we have to manage our time to be more productive by also increasing the payout amount due to greater odds.
Live betting general punters logic
A study conducted by scientist trained in human behavior found out that punters will place bets on odds that are decreasing over time on in-play games and will avoid placing bets with increasing odds as was discovered by Canadian psychologists. The common belief is that the lower odds are safer than the ever increasing odds. A good example is when betting on a Premier League match and a draw between Liverpool vs Manchester United is at 4.00 during the first half.
After 30 mins the shrinks to 2.50 odds meaning that its more likely that the game will end as a draw but this is actually dependent on the actual event thus about 70% of punters will play this 'safer odd' and most will remain at this odd up to the final whistle. This also affects other bet types apart from the traditional 1×2.
Bookmakers use time to change odds and as the match comes to an end the odds on most popular outcomes continue reducing over time and some bet types will not be available especially if the goal difference is more than 6 goals. Experienced punters take advantage of time by placing bets much earlier before the bookmaker has statistics to change the odd value and this usually the right of the online betting provider to change odds how it best fits them so always make early selections on odds.
Types of odds
There are basically two overrated and underrated odds. The odds on possible outcomes are usually undervalued or underrated and this is usually the basic rule for engagement. The bookmaker may tempt punters by offer overrated odds on a given bet type for example a match between two football teams is at 2-2 and odds on under 4.5 are lower as 1.40 while over 4.5 are much greater than 5.20 in 85th minute of the match.
The trick here is that the overrated odd can possible occur while the underrated is the favorite pick since punters like to play it safe and punters tend to avoid the overrated odd value. Fear plays major part in discouraging punters to pick the 5.20 odd over the safer 1.40 odd value and this trick usually works on about 65% of punters.
The perfect balance on over/ under goal difference
The under and over usually is not affected by who wins or draws and can help when betting on difficult matches. The goals determine the outcome and not the winner thus creating a sense of balance that makes winning on over/under 1.5 easy.
This mainly the reason why this type of betting is disliked by the bookmaker is that it creates a (fifty fifty) balance and is usually advantages for punters, since stakes are evenly balanced. The dying minutes in a match usually determine the teams playing style and strategy.
Let's say an underdog scores a late equalizer especially during a final the coach reacts by making a substitution or sending all players to attack and is common to see goal keepers coming for the final corner in order to secure a win they play more aggressive with numerous counter attacks. Always try to be on possible outcomes that will shape the final outcome by avoiding betting on current ones that will tend to change over time and this should be regardless of your betting styles. This odds are tempting at first but we can use the live statistics on head to head to determine the possible future outcome after the first half.
Time management strategy on live betting
"Until we can manage time we can manage nothing else" Peter F. Drucker and not knowing how to manage their time leads to missed odds, increased stress and leads to poor performance in terms of winning. Punters have a chance of getting back their money by placing other bets on in-play games like how Leon Ho said " if you lose money, you might get a second chance to make it back; but wasted hour is irreplaceable". Time creates the difference between the winner and quitter.
Make a list on matches of the day, making a list makes you mentally prepare for the upcoming task and we can easily manage time by getting a feel on how many games, time and type of bets to use.
Make a plan, in sports betting we always need a plan or strategy and we can start researching on the head to head starts on difficult matches in that order. This strategy will help your mind think better before even live betting starts.
Develop strategies to assist in tempting situations, without a strategy you can easily fall prey to tempting odds offered.